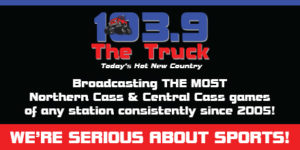 Live Sports Broadcasts…With Brad Anderson!!
Eastern ND Class B High School Sports

Class B ND High School Sports with Award-Winning Sports Announcer Brad Anderson!
Brad was awarded "2017 North Dakota Sportscaster of the Year" by the National Sports Media Association and also a winner of the Award of Merit from the North Dakota High School Coaches Association
Broadcasting Games & Tournaments for…
Central Cass, Northern Cass, Enderlin, Maple Valley, Kindred, Richland, Oak Grove, Lisbon, Milnor, North Sargent, Sargent Central, Hankinson, Oakes, Wyndmere-Lidgerwood, Wahpeton & Finley/Sharon-Hope/Page.
*Listen on the Radio at 103.9 The Truck or…
*Listen HERE for LIVE STREAMING.
————————————————————————————–
Satuday 6/1/2019
Live Sports Broadcasts…With Jared Medenwald!!
State Class B Softball Finals:
Central Cass vs. Kindred-Richland LISTEN ON KNNZ 89.1-FM or at the Windows Player shown below.
<